Loving Hut is an internationally-known family of vegan restaurants. All of Loving Hut's menu items are made with wholesome, plant-based ingredients. Try the Lemongrass Tofu or the Fabulous Mongolian which is made with soy protein.
The only completely 100% vegan restaurant in the Pittsburgh area. Clean, great menu, helpful staff, generous portions, delicious, and very affordable!!  The Saturday buffet is great! If you're vegan in Pittsburgh you have to try this place!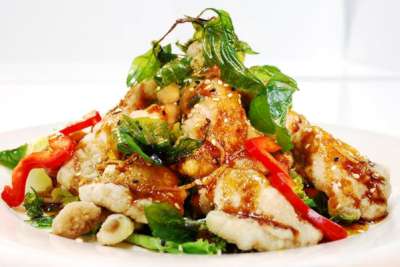 Loving Hut restaurants are all over the world and the menu is all vegan! My favorite dish on the menu is the Guru's Curry. The curry is savory, spicy and filling. The soy "meat" has great texture. This is a hearty meal. Their chocolate cake and mocha cake are also both fabulous and sure to [...]
All vegan restaurant in Milipitas, CA.  For dessert I had a slice of their chocolate cake ($4.25) which was spectacular: succulent, moist, subdued and just perfect. The Loving Hut in Palo Alto also has this chocolate cake.
This Loving Hut is in Westfield San Fracisco Centre, a shopping mall food court and, as such, has a different model than other Loving Huts. At this one, the food is already prepared and sitting out in a buffet line.  You pick two dishes and get a combo deal for about $8. Most of the dishes are [...]
Great food and reasonably priced.  Vegan restaurant chain with locations all over the world. Note: Loving Hut is a 100% vegan restaurant. Check out this photo of their super yummy vegan cheesecake!