Vita-Mix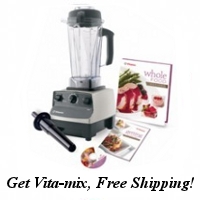 We have a special offer for our community members on one of our favorite products – the Vita-Mix.
We use the Vita-Mix to make everything from the "live" pie crusts and homemade nut milks to super creamy seasonal soups and yummy hummus. You'll see a Vita-Mix in all of the recipe photos that show a "blender"! It's the one appliance that makes preparing vegan meals a snap.  If you have any questions about the Vita-Mix, call 800-848-2649 ext 2304 and ask to speak with Prima Ponce-Zapata.  She is really helpful!
And if you use coupon code 06-005989 to purchase your Vita-Mix products from Yummy Plants, you will get free shipping!
Whether you splurge for the Professional Series 500 or start with the entry level model, you will LOVE your Vita-Mix.