Taifun Tofu Rosso – Tofu Brand in Europe
Taifun Tofu Rosso has a few things going for it. #1, it's organic; #2, it's 100-percent vegan; and #3, it's absolutely delicious! The ingredients are pretty straightforward: Tofu, olives, sun-dried tomatoes, and a heap of tasty spices, including paprika and oregano.  The Italian vibe (and taste!) make it an ideal match for pasta sauces, but it's equally delish nibbled straight out of the package.
German company Taifun—which sources almost all of the soybeans used in its products in central Europe—distributes its 100-percent vegan products throughout 14 European countries, including Italy, Spain, and France, so when you're traveling through Europe this summer, you'll never be too far away from the perfect savory picnic food or travel snack. Try slicing Tofu Rosso and serving it with crackers as an hors d'oeuvre, or stuffing it into a baguette with some lettuce and tomato for a memorable sandwich (best enjoyed with a view of the Tour Eiffel, Colosseum, or Sagrada Familia).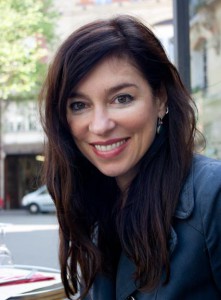 The recipe for a happy life, according to Aurelia d'Andrea, calls for one part great food, one part travel adventure, and two parts companionship (human and animal, in equal measure). She's living out her kitchen-inspired credo in San Francisco and Paris, France.
Aurelia's new book, Vegetarian Paris, is now available for pre-order!