Comfortably Yum: Easy Vegan Comfort Food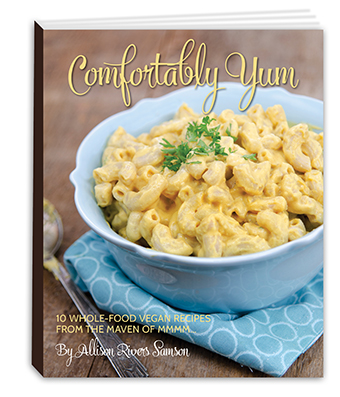 If you're new to the world of plant-based eating, you may not have heard the good news yet: When you go vegan, you definitely don't have to say goodbye to chewy chocolate-chip cookies, decadent fudge, or even gooey brownies.  Just ask Allison Rivers Samson, the maven behind the Allison's Gourmet brand. Since 1997, she's been vending cruelty-free confections that taste as good—and some of us even say far better—than your average non-vegan treat.
In the last few months, Allison has made veganism even more accessible to hungry herbivores with the publication of her gorgeous e-cookbook, Comfortably Yum.  With 10 carefully curated, over-the-top- tasty recipes, Allison brings many childhood-favorites to the table with a thoroughly modern meat-and-dairy-free makeover.  Think Veggie Pot Pies, (Save The) Tuna Melts, and even Caesar Salad—all gluten-free, good for you, and—most importantly—incredibly yummy.
"You can serve any of these recipes to a mixed group and everybody will be wowed," says Allison. "I've served the tuna melt to omnivore crowds and their jaws drop in amazement at how good it is."
Looking at Comfortably Yum's glossary of ingredients proves that adopting a plant-based diet isn't about limiting your choices, but about expanding them. From sorghum flour to coconut sugar, to the sulphuric salt from India known as kala namak, the book offers an introduction to exciting new foods you'll want to add to your culinary repertoire.  Most of the recipe ingredients, however, are those you'll already be familiar with.
"Garbanzo beans are a regularly cast hero in my recipes," says Allison. "Not only do they pack a protein punch, they're also versatile, lending their texture to flakiness for (save the) tuna salad and creaminess for cheese sauces." Allison's award-winning Mac 'n' Cheese is one delectable example of garbanzo beans working undercover, but the only way to know how fabulous vegan eating can be is to taste it yourself.
To make it easy for the new vegan (or a veteran!) to try her recipes, Allison is giving a free copy of Comfortably Yum to one lucky Yummy Plants reader. For a chance to win, mosey over here and have a look at the recipe photos, then come back to this page and leave a comment telling the Yummy Plants community which recipe you'd make first. We'll pick one lucky winner on May 19!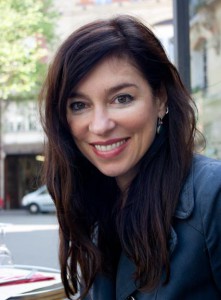 The recipe for a happy life, according to Aurelia d'Andrea, calls for one part great food, one part travel adventure, and two parts companionship (human and animal, in equal measure). She's living out her kitchen-inspired credo in San Francisco and Paris, France.
Aurelia's new book, Vegetarian Paris, is now available for pre-order!