Cashew Milk Ice Cream from So Delicious!
Summer is here! I'm thrilled about all the delicious vegan ice cream from So Delicious Dairy Free! 
Get ready to taste incomparable yum: So Delicious Dairy Free has launched 5 flavors of completely vegan cashew nut milk ice cream. All I can say is WOW.
I had a few friends over for a sampling party. We all agreed: this is some of the best ice cream we've ever tried.
Here's the scoop on the new cashew nut milk line:
Made with fair trade vanilla, cocoa, and coffee
ALWAYS gluten-free, egg-free and dairy-free
Certified organic and non-GMO
Free from high fructose corn syrup and artificial flavorings
These cashew cuties come in gluten-free Snickerdoodle, Salted Caramel, Dark Chocolate Truffle, Cappuccino, and Creamy Cashew. The pint containers are listed with a serving size of 1/2 cup. (That's a lot of ice cream!) Each serving has between 150 – 190 calories per serving. Honestly, the cashew milk makes them so creamy, that I was satisfied with just one scoop (about 1/2 a serving).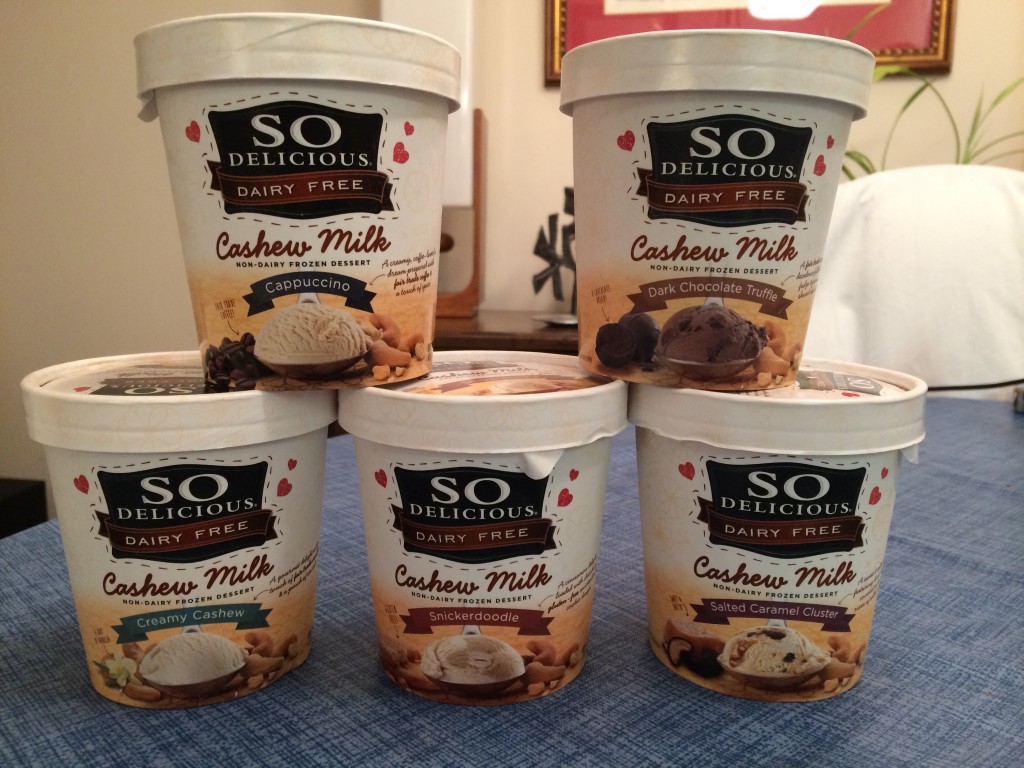 Yay for a vegan world! With super yummy treats like this from So Delicious, it is really easy to make the switch to vegan ice creams :) These new cashew milk ice creams really are soooooo delicious!
Rebecca Gilbert is the founder of yummyplants.com and the author of  It's Easy to Start Eating Vegan. She's a world traveler whose passion is to celebrate and share the joy of vegan food  - all around the world! Rebecca is a former competitive figure skater whose switch to a vegan diet healed her chronic joint pain. She has been a featured speaker at the World VegFestival in San Francisco, Vegetarian Summerfest, and Paris Vegan Day.
One Response to "Cashew Milk Ice Cream from So Delicious!"