Texas VegFest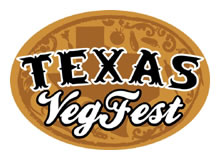 Texans, get ready for a day of live music, guest speakers, cooking, and fun!   Venture out to the first ever Austin Texas VegFest Saturday, March 31, at the Fiesta Gardens West End from 11am to 6pm. The festival will promote and celebrate plant-based diets for a healthier and sustainable future.
Sponsored by Whole Foods Market, the festival is set to include cooking demos, activities for children, beer, and of course, food.  Vendors include Mary's Gone Crackers, Earth Balance,  and So Delicious Dairy Free.  And that means samples… YUM!   If you haven't sampled the So Delicious Dairy Free line of coconut milks, yogurts and ice creams, you're in for a real treat!  New vendors are being added, so check the Texas VegFest site for the complete list of Texas VegFest vendors.
And of course, no VegFest is complete without the amazing speakers who educate and inspire us!
The speakers include:
 Isa Chandra Moskowitz, creator of Post Punk Kitchen, started cooking vegan cuisine over 20 years ago. She has co-authored multiple award-winning and best-selling cookbooks with fellow speaker Terry Hope Romero.  Their cookbooks include Veganomicon, and Vegan Cupcakes Take Over the World.
Terry Hope Romero, creator of Vegan Latina!, is a vegan cook and author, a regular contributor to VegNews Magazine, and holds a certificate in Plant-Based Nutrition from Cornell University.   Her cookbook, Viva Vegan!, has over 200 recipes for people who love Latin-American foods.
Robert Cheeke is the founder of VeganBodyBuilding.com, and the author of Vegan Bodybuilding & Fitness: The Complete Guide to Building Your Body on a Plant-based Diet. Robert has been featured in the New York Times, and speaks all over the country to teach us how to be healthy and accomplish our goals.
Check the Texas VegFest site for updates and additional speaker announcements.
Texas VegFest will be a great event to learn, grow, and have fun with the vegan community.  Hope you can make it!