Accidentally Vegan: Sunspire Fair Trade Organic 65% Cacao Chips!
This week's Accidentally Vegan feature is….65% Cacao Organic Fair Trade Chocolate Chips by Sunspire!  
Shared by Rebecca Gilbert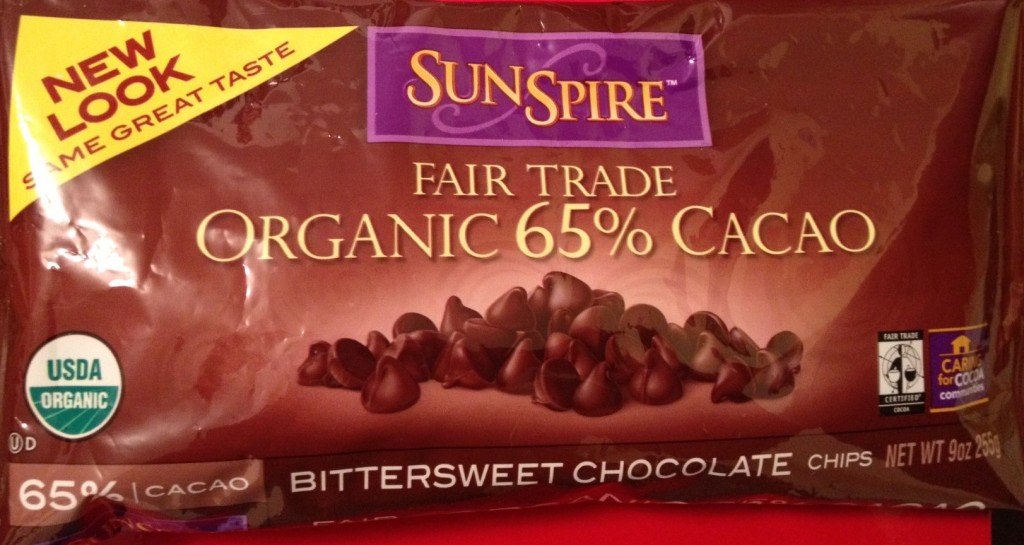 Do you miss real chocolate in your vegan chocolate chip cookies?  Are you having trouble finding vegan chocolate in your area?  I use Sunspire 65% bittersweet chocolate chips for all of the super yummy cookies in our vegan recipes section, and also for our famous "Dairy-Free, Wheat-Free Chocolate Pie with the 'Live' Macadamia Nut Crust," (shown below), and sometimes I eat them mixed with walnuts as a good old fashioned snack!   (I'm eating walnuts several times a week after reading The Harvard School of Public Health article that a handful of nuts several times a week can reduce your risk of cardiac arrest by 30 – 50%.)
These 65% cacao chips are organic, fair trade, made without any refined sugars, and are dairy-free – yay!  You can learn more about these super yummy chips on the Sunspire website.
I found these organic, fair trade chocolate chips at Whole Foods, but if you don't live near one, you can also order them online (by the dozen) through Amazon.
YUM!  Thanks Sunspire for making these 65% chocolate chips dairy-free!  We're still waiting for you to make a dark chocolate dairy-free version of your SunDrops.  Pretty please?!
Products featured on Accidentally Vegan meet these criteria:
1) They're not packaged as a vegan product, but they meet vegan standards 
or
2) They're labeled as vegan and taste so amazing that we want to make sure you know about them!
Did you find a great Accidentally Vegan product?  Send us a note to share your discovery and you could be featured on a future edition of  Yummy Plants Accidentally Vegan!   
One Response to "Accidentally Vegan: Sunspire Fair Trade Organic 65% Cacao Chips!"
Leave a Reply
You must be logged in to post a comment. If you don't have an account, please register